Brick & Stone Cleaning
Whether you're looking for a professional stone clean to spruce up the look of your building, to help in identification of structural issues such as missing pointing or cracks, or to remove damaging deposits such as lichen or algae, we have the knowledge, experience and equipment to carry out a thorough clean without causing immediate or long-term damage.
As members of the Society for the protection of Historical preservation, we have helped with the restoration of some of New England's most precious architecture and Cemeteries. Our customers range from private home owners through to commercial clients, as well as local government authorities, parishes and heritage buildings.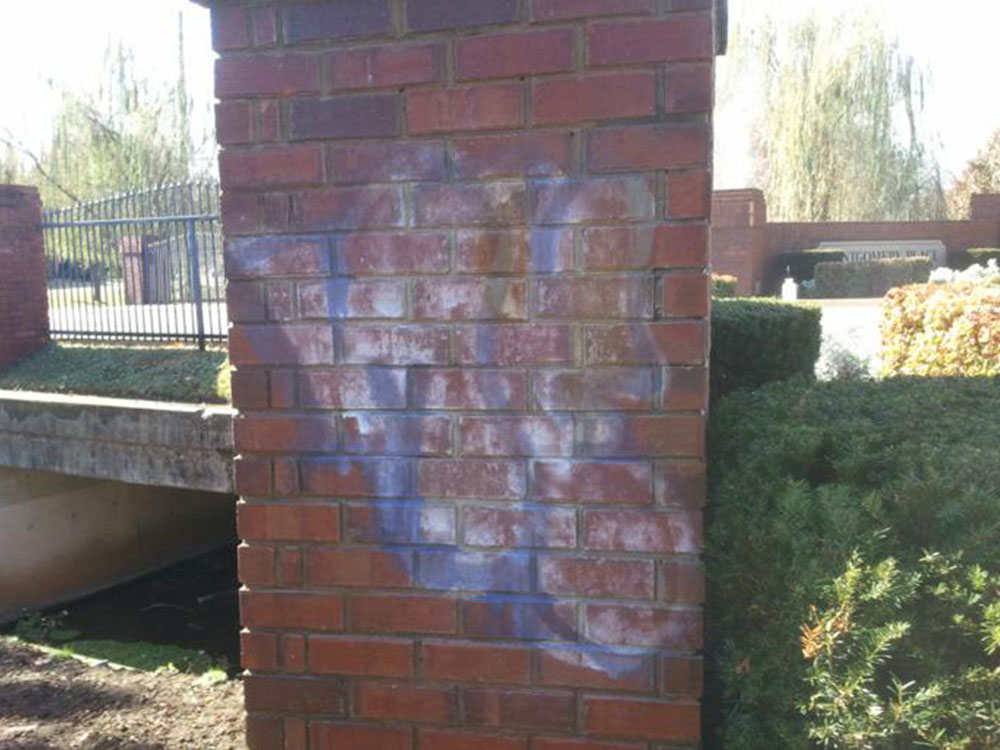 Graffiti Removal
If you've been a victim to the degrading and destruction of graffiti vandalism, you might be contemplating the cost of graffiti removal versus leaving it be. But while its removal isn't always easy, leaving it has costs of its own to consider.
Most Insurance companies will cover the costs of removal, and we will bill direct to them to make your busy life a little easier during this heinous and misfortunate crime that occurred. All before and after photos are taken and sent directly to the insurance companies as proof of vandalism.
abrasive

Cleaning

We use an abrasive system for cleaning for more challenging building façade cleans. We use the TORC system which generates a gentle swirling vortex using a mixture of low air pressure, water and infuse it with a safe fine granulate.

The TORC system is extremely efficient and versatile due to the TORC head being interchangeable. This allows our technicians to adapt the TORC system based on the environment that they're cleaning i.e. larger cone can be attached and used to clean large are as such as brick and concrete walls in cellars or basements or building facades.

This system will also remove MARINE bottom paint and fouling from the oceans harsh environment. We carry sealants to assist in providing protection from future atmospheric pollutants.
Types of Abrasive Cleaning
Carbon sulphating
Lime & cement-based paints
Paint residues
Some old oil-based paints
Bitumen
Lime scaling
Certain types of graffiti
Basements / buildings / walls indoor or out
Marine

(boats/props/rudders/sea walls)